Generator battery explosion
Arrived home this afternoon to a garage door opener that didn't work. Further investigation revealed the power was out. I heard the generator exercise last week, wondered why it didn't start this week. Looked at the exploded remains of the battery, and quickly realized why it wasn't running.
What you can't see here is that the explosion broke the positive post clamp on the positive supply cable to the generator.
I borrowed a battery from a vehicle to start the generator until power returned. As I set the donor battery next to the generator, the power came back.
I have a little repair job to do now!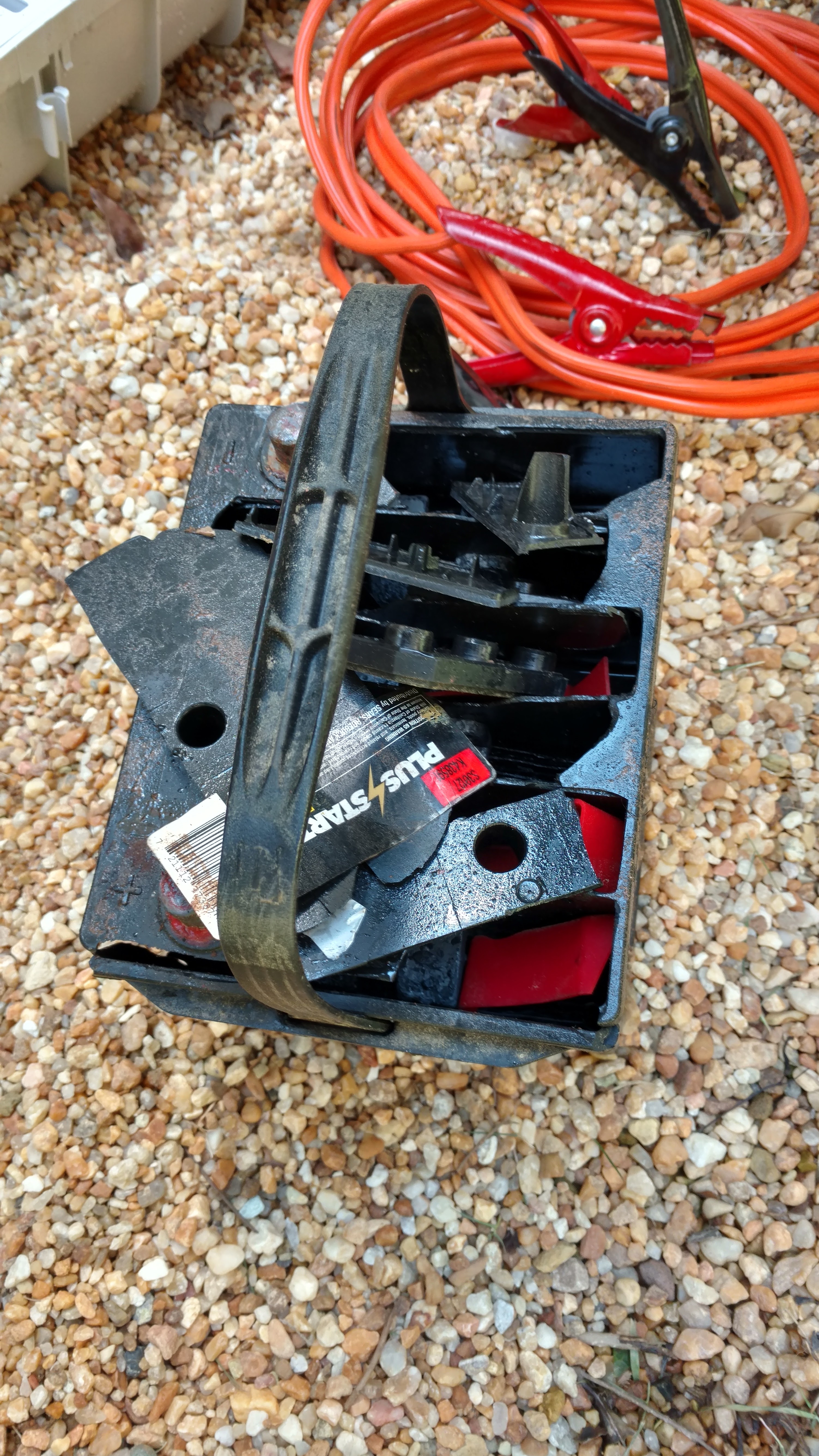 ---
Michael K Johnson July 17, 2016 20:46
Generac made it such a pain to service the battery that I hadn't topped it off recently enough. Just lost track. Now that I have to replace the post clamp anyway, I might do more substantial changes.
I think that the charging system in the generac may overvolt the battery. One solution would be to remove the charging fuse and add a smart charger instead. That would let me switch to SLA (gel or AGM) for longer life. Hmm.
r herrold July 18, 2016 11:27
well, all that, and design a hi-Z, diode isolated test point for a RaspPi to monitor start battery voltage, and to gateway it into the residential Nagios
Michael K Johnson July 18, 2016 17:09
Surely you mean ESP8266!
r herrold July 18, 2016 20:36
my oversight – I see AMZN has base ESP8266 units for under $10
Michael K Johnson July 19, 2016 21:01
Thought it took a BCI Group 24 battery, so I picked one up today.
Ended up taking sheet metal shears to a baffle to fit the battery in. Easier than exchanging the battery, especially after the store closed.
---
Imported from Google+ — content and formatting may not be reliable